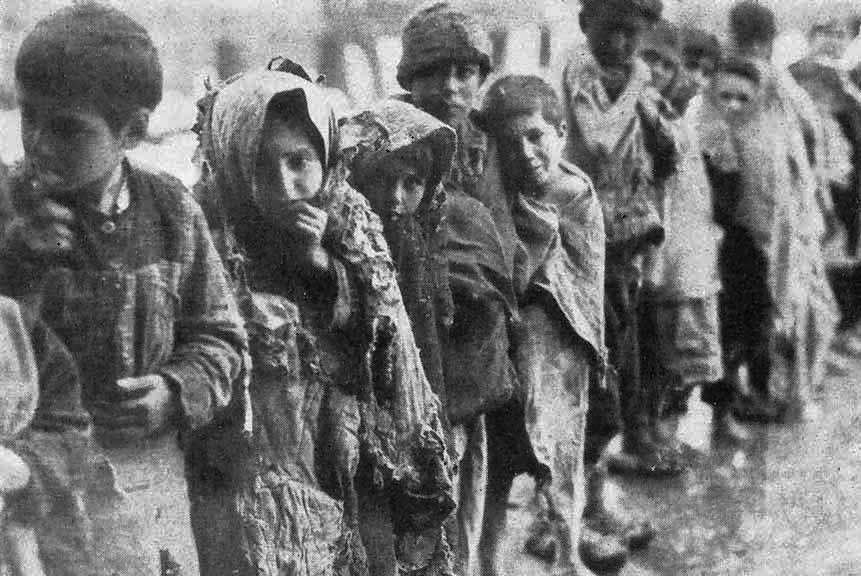 Credit: The Armenian Genocide Museum-Institute
An eyewitness account of the butchering and slaughter of Armenians by the Young Turks,
Armenian Golgotha
sickened me as much as it informed me.
The challenge in reading accounts of epic atrocities is being left with
what happened
without the bitter balm of why it happened. Survivor and author,
Grigoris Balakian
, covers what happened, when it happened, where it happened, who it happened to, etc.
Not many pages were need to cover why, because as is too often the case, the why is hatred. But hatred seems far too pale a word.
While I write that the account sickened me, I acknowledge that it is an important book to read. The murders are savage. That is all I will write to that detail. Yet, this year is the much publicized beginning of the centenary, or 100th anniversary, of WWI. I do not see much publicity that the world is entering the 100th anniversary of this Armenian Genocide. Perhaps it is overshadowed by the Great War? Is the Armenian Genocide lumped into the estimated 17 million killed and 20 million wounded in WWI?
It is very difficult to write about the savage hatred which human beings inflict on one another but the pain of such savage hatred is my take-away from this book--moreso than Balakian's remarkable escape and survival. The pain is just embedded in each line:
The wretched Armenian mothers who were unable to take thier underage children (two to six years old)--children who had fallen ill from starvation, extreme cold, and the hardship of the long, half dead or in the throes of death--had to leave them on top of the already dead. Tearfully, the eyewitnesses told us how two large mounds of corpses of thousands of Armenian children rose up in front of Kanle-gechid, among them also numerous children who had not yet died and who extended their hands, searching for their mothers (225).
Each day I become more of an advocate for sharing family history and culture. I even dabble in a podcast encouraging others to tell their family stories. And, for the most part, the stories people choose to tell are the good stories, the happy memories, and fragments discovered in documents. But I have to add, that the difficult stories are also necessary for us to share and read. Understand, this is a part of what I asked of myself when taking on a "reading the world" challenge; nevertheless, nothing quite prepared me for such sadness and pain. Even in moments of great kindness and comfort, Armenian Golgotha is a difficult but necessary account to stomach:
Resting in a clean, comfortable bed, I felt for the first time in long months that mine was a life fit for human beings. I pulled the blanket over my head--when an unstoppable sobbing burned my throat, and I began weeping bitterly. It was not tomorrow's worries that were causing me to break down: it was the memory of erstwhile happy days, when we had the good fortune of lying in a clean bed like this every night. For who knew, perhaps tomorrow I would again end up wandering over mountain or valley, and being hunted down (267).
Armenian Golgotha takes its place as one of the most personally challenging books on my shelf.